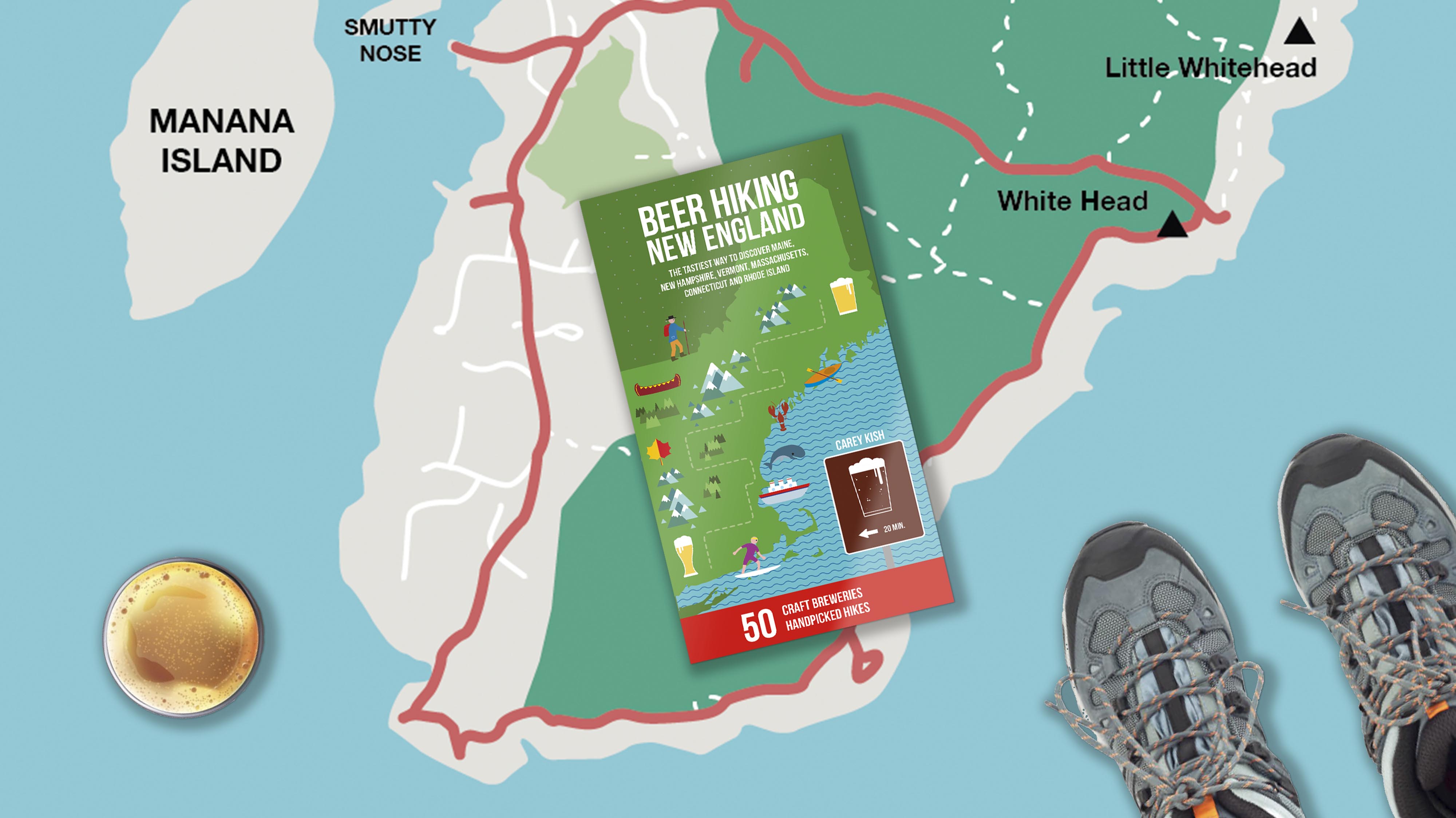 Carey Michael Kish lives in Maine and is the editor of the Appalachian Mountain Club's Maine Mountain Guide. For Beer Hiking New England, Carey drove over 20,000 miles, hiked more than 300 and tasted 228 different beers.
With thousands of miles of hiking trails and walking paths rich in scenery, history and wildlife, New England is a hiker's dream destination. And for trampers who appreciate beer, the region has the added appeal of being home to a burgeoning craft brewing industry that now includes more than 700 breweries, microbreweries, brewpubs and tasting rooms. Someone should write a book about hiking and beer I had thought many times over the years. And so finally I did.
Beer Hiking New England is the tastiest way to discover Maine, New Hampshire, Vermont, Massachusetts, Connecticut and Rhode Island. The full-color guide features 50 great hikes, each not far from a brewery or brewpub where great craft beer can be enjoyed. The result of several years of research and writing, the new book will be available in mid-February. It was a wonderful journey, and I hope you'll pick up a copy and enjoy the travels as much as I did.
New England has hiking opportunities aplenty to suit every interest and ability, from high mountain peaks and leafy green hills, sparkling lakes and ponds, clear rushing rivers and streams to sandy dunes, beaches and rocky coastal headlands. And somewhere in the vicinity of trail's end, hikers can always find an inviting spot to enjoy a refreshing craft brew—a fun place to relax and reflect, pint in hand, on the day's outdoor activities amid jovial pub banter, while conjuring up plans for the next hike-and-brew endeavor.
The hikes selected for this guide range far and wide across the extraordinarily diverse natural landscape of New England. Among them you'll find everything from easy pondside strolls to moderate hill walks and forest forays to strenuous mountain climbs. The majority of the hikes are loops, beginning and ending at the same trailhead, while a handful are round-trip (in-and-out via the same trail). A few hikes are one-way or point-to-point, beginning at one trailhead and ending at another.
The breweries and beer styles you'll encounter are as varied as the region's geography. New Englanders love their beer, and you will too. Several states consistently rank among the highest in the nation for per capita breweries and beer consumption. "We brew the beer we love to drink" is a common refrain among brewers and brewery owners, who exude a palpable enthusiasm for their craft and an amazing passion for their patrons, staff and communities.
From barns and old mill complexes to former machine shops, from main street storefronts to restored train depots, from small rural operations to large urban producers, from budding new businesses to long-established institutions, every New England brewery has its own unique character and flavor. The hazy, juicy, hop-forward New England IPA may be the dominant beer, but you'll discover a wide range of drinkable brews on tap wherever you go—from traditional favorites to experimental batches and seasonal offerings.
The fact is that there's a wealth of really good beer all over New England, from the New England IPA to the more traditional beers—the lagers, IPAs, wheat beers, Belgians, porters and stouts—plus fruit sours and other specialty brews. Most breweries feature a tap list of regularly available beers, while some have a constantly rotating tap list. What you can always count on is variety and that you'll find one or more beers that will delight your olfactory senses and satisfy your taste buds.
New England. Hiking. Beer. Beer Hiking New England. Great outdoor and indoor adventures await you in the pages of this new book. Hike safely, have fun and please drink responsibly. Cheers!
Here are six great beer hikes, one from each New England state, to get you started.
Carey Michael Kish
Massachusetts: Explore the world's third-largest pine barrens ecosystem on a circuit hike through the sprawling 12,400-acre Myles Standish State Forest. Then make like a Pilgrim and set sail for Plymouth and a cold beer at Mayflower Brewing, which was founded by tenth great-grandson of John Alden, the beer barrel cooper on the Mayflower.
Connecticut: Take a meandering walk through the wonderfully wild wetlands and woods of Barn Island Wildlife Management Area, Connecticut's finest coastal preserve. Then head for the refurbished American Velvet Mill to relax with a heady brew at Beer'd Brewing (and an awesome pizza from neighboring Woodfellas Pizza) in the comfy Beer'd Garden.
Rhode Island: Take a relaxing hike around scenic Tillinghast Pond on 2,200 acres owned by The Nature Conservancy that includes beautiful stands of mature pine, oak and hemlock. Post-hike, go east to Linesider Brewing for a deliciously popular pour of StrIPAh, named for Rhode Island's state fish, the striped bass, which sports stripes.
Vermont: Hike up to Elmore Mountain's historic summit fire tower to drink in the panoramic views up and down the crest of the Green Mountains. Just down the road in pretty Morrisville you can drink up some great brews in the amid the work of local artisans in the "art gallery" at the family-owned Rock Art Brewery, one of the Stowe region's oldest breweries.
New Hampshire: "Get Rad" on an awesome all-above-treeline ramble through the amazing alpine zone on the summit cone slopes of Mount Washington, the highest peak in the northeastern US, "Then Drink Beer" in the outdoorsy vibe of Ledge Brewing far below amid the prominent granite ledges in the Mount Washington Valley.
Maine: Sample some of the finest sights in the heart of Acadia National Park on a walk along Jordan Pond and a climb of Sargent and Penobscot mountains. Later in bustling Bar Harbor, settle in at Atlantic Brewing's Midtown brewpub to sample a crisp and refreshing Flat Hat American Pale Ale and a Midtown Classic Burger, one the best anywhere.