Lichtputzer und Pulveraffen
89 ausgestorbene Berufe und ihre unglaubliche Geschichte. Ein wunderschön illustriertes Geschichtsbuch über die aussergewöhnlichen Berufe, die Menschen im Laufe der Zeit ausgeübt haben.
EMYS Sachbuchpreis August 2023
Delivery date?
Shipping cost?
Delivery by post.
Shipping fees 5CHF.
Free delivery from 36CHF.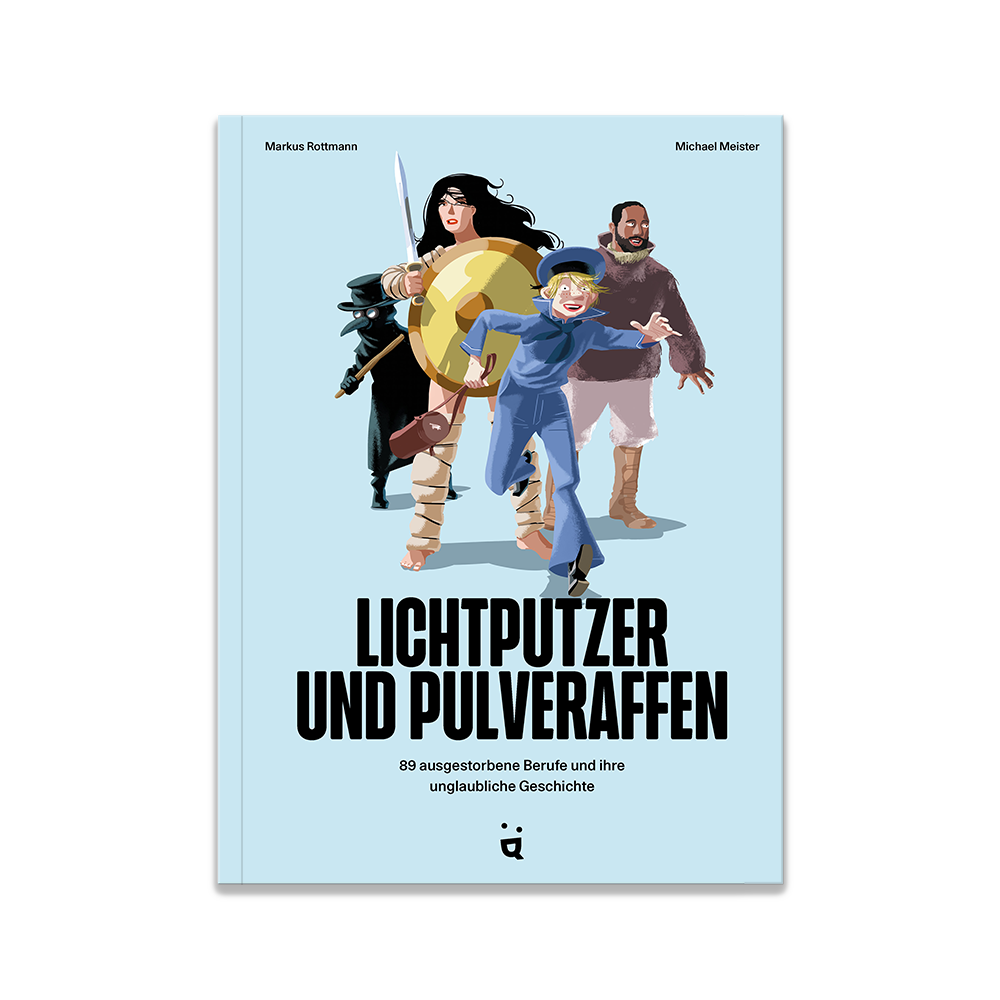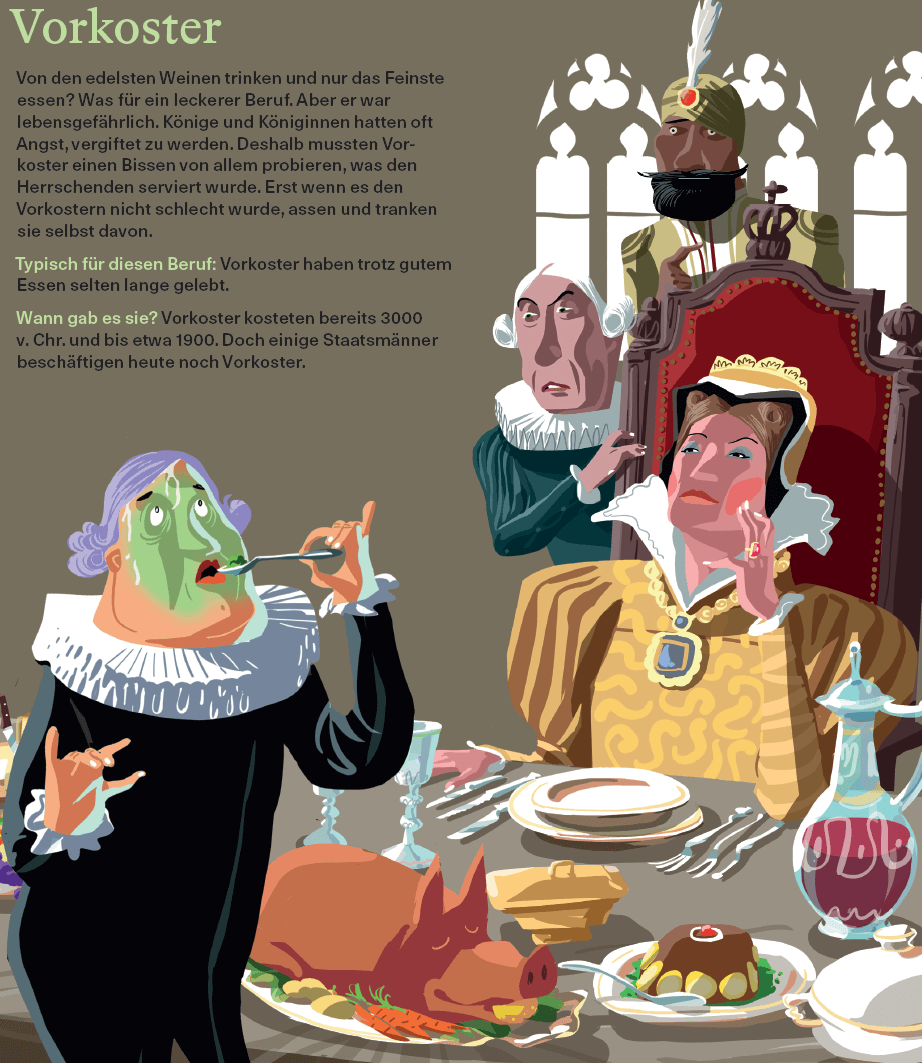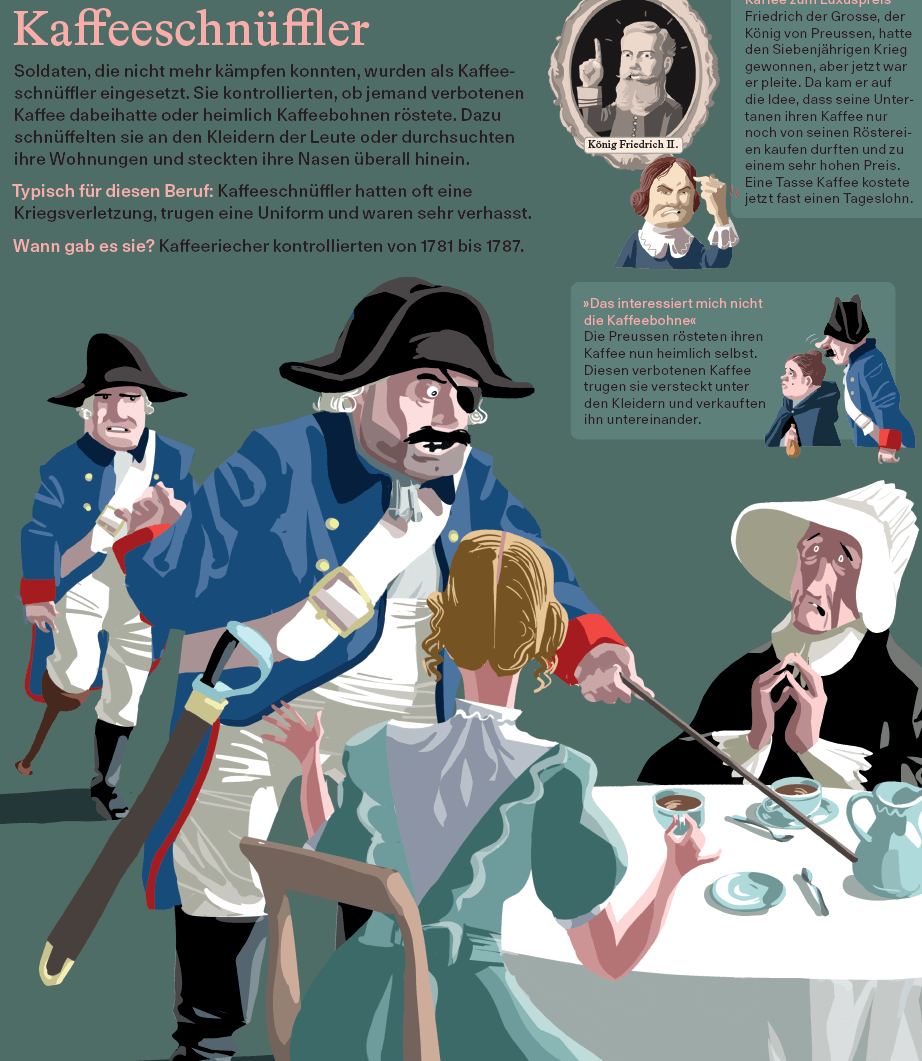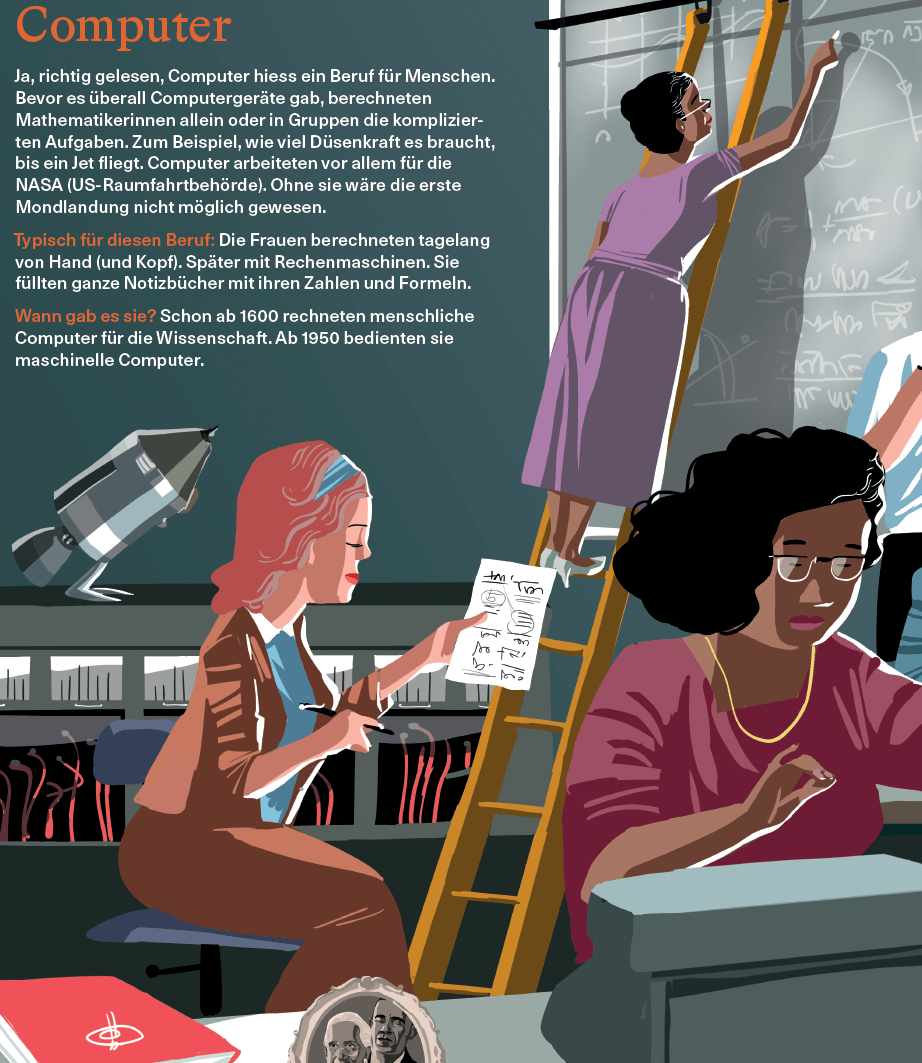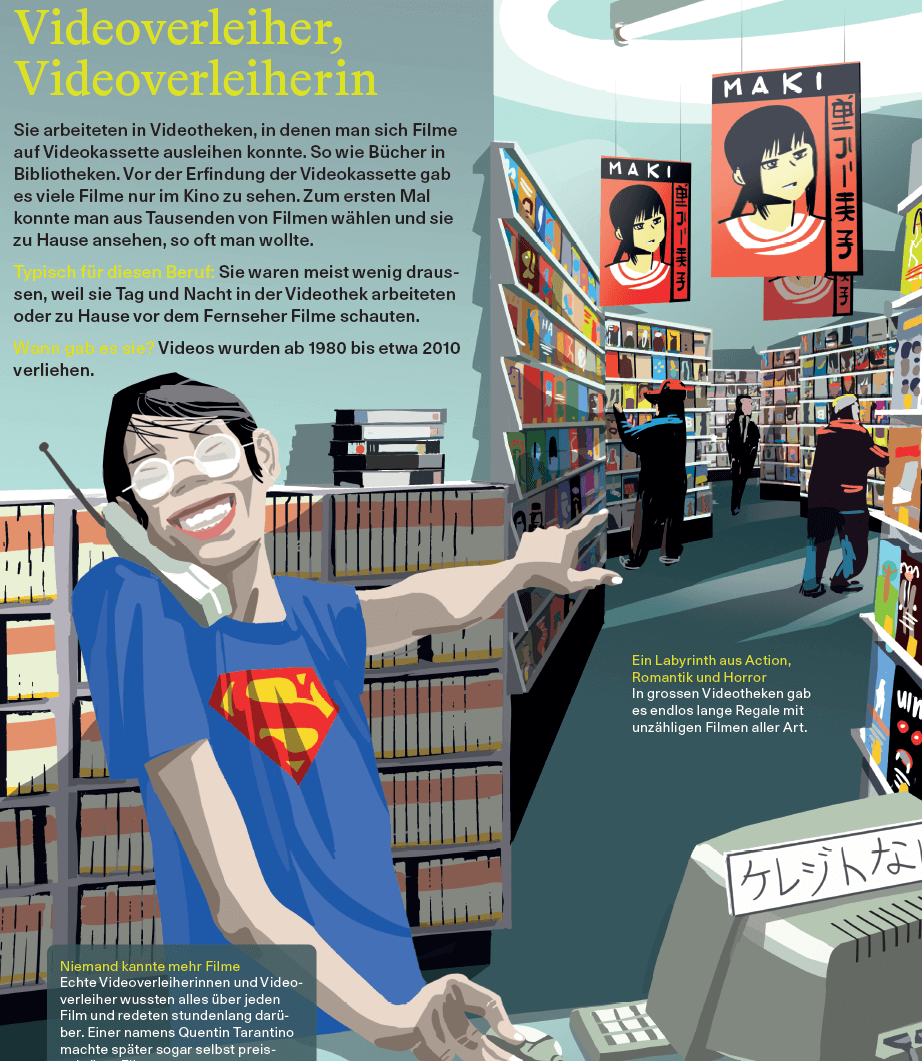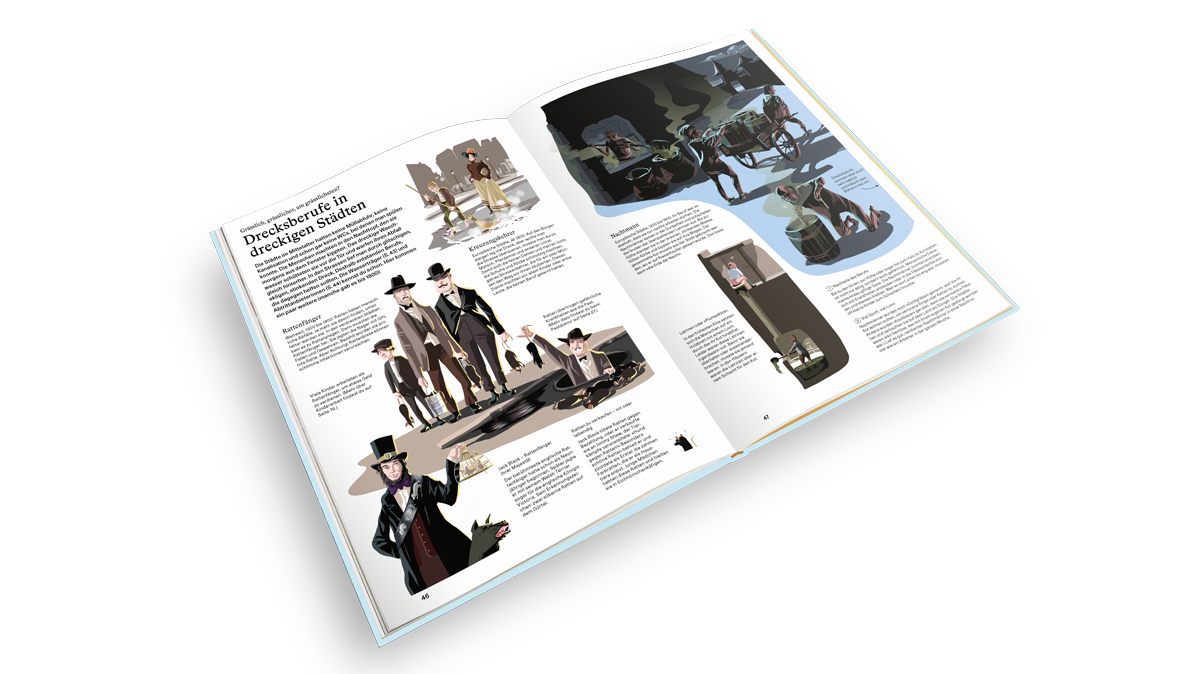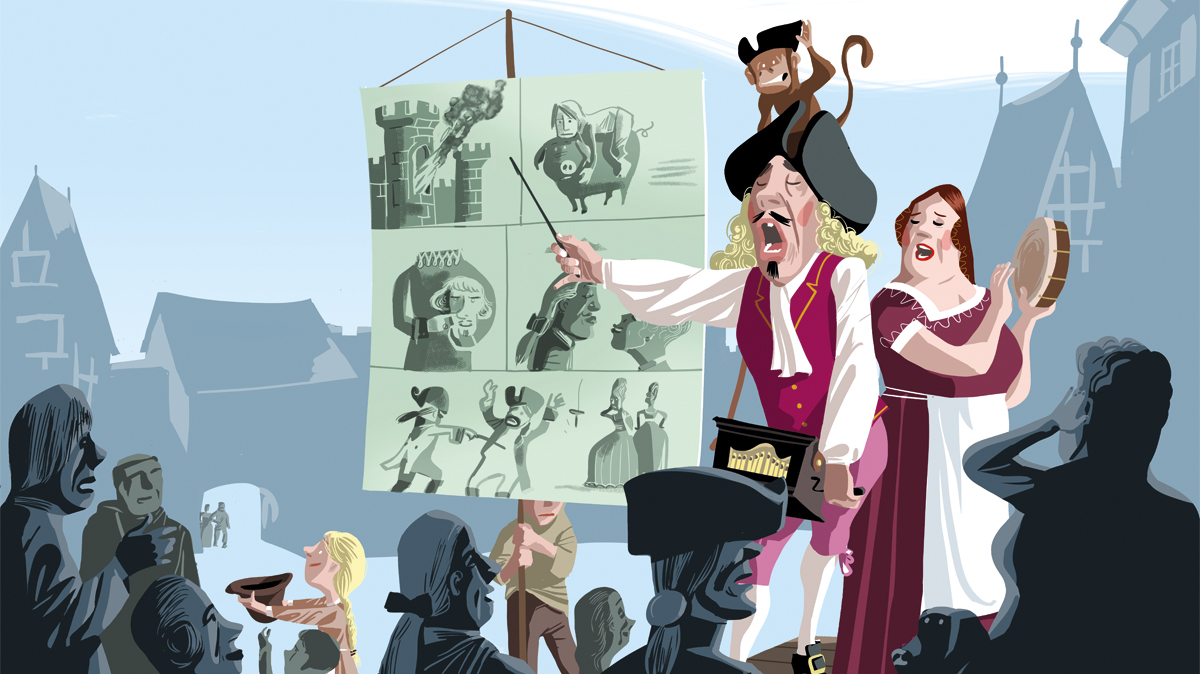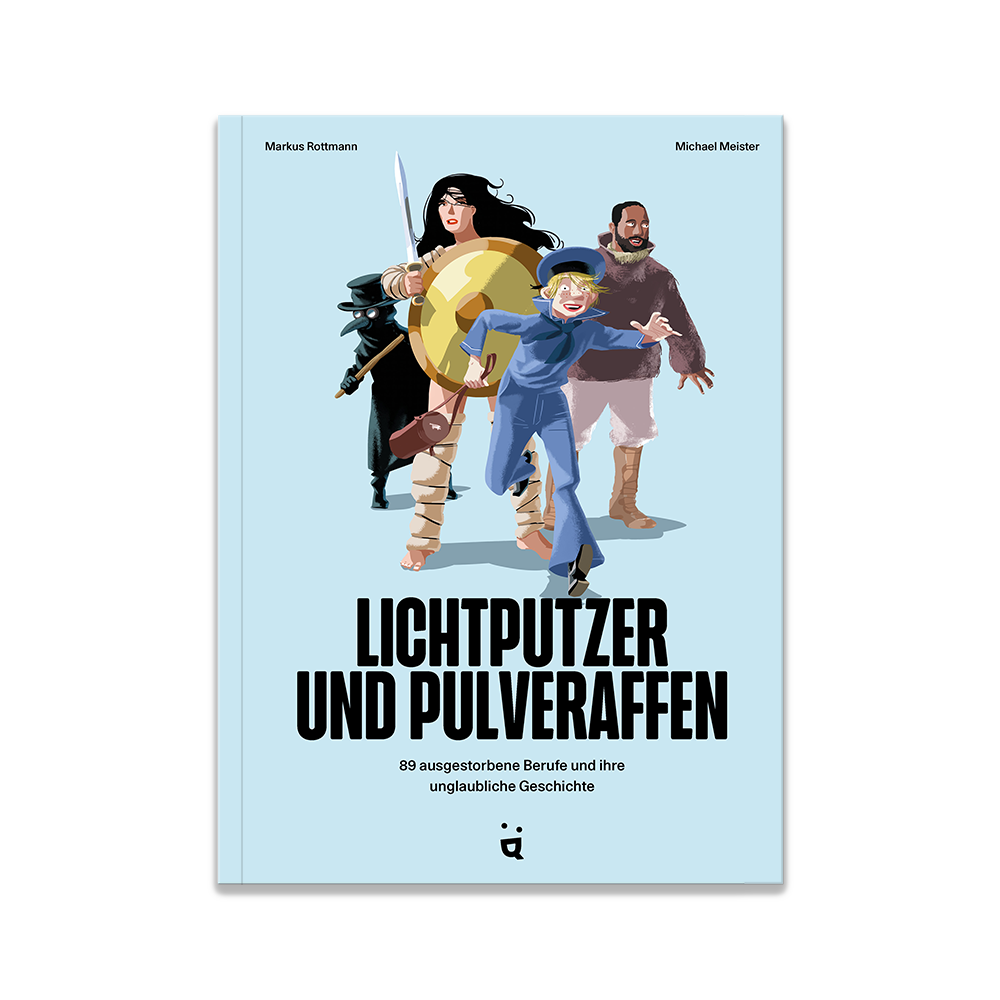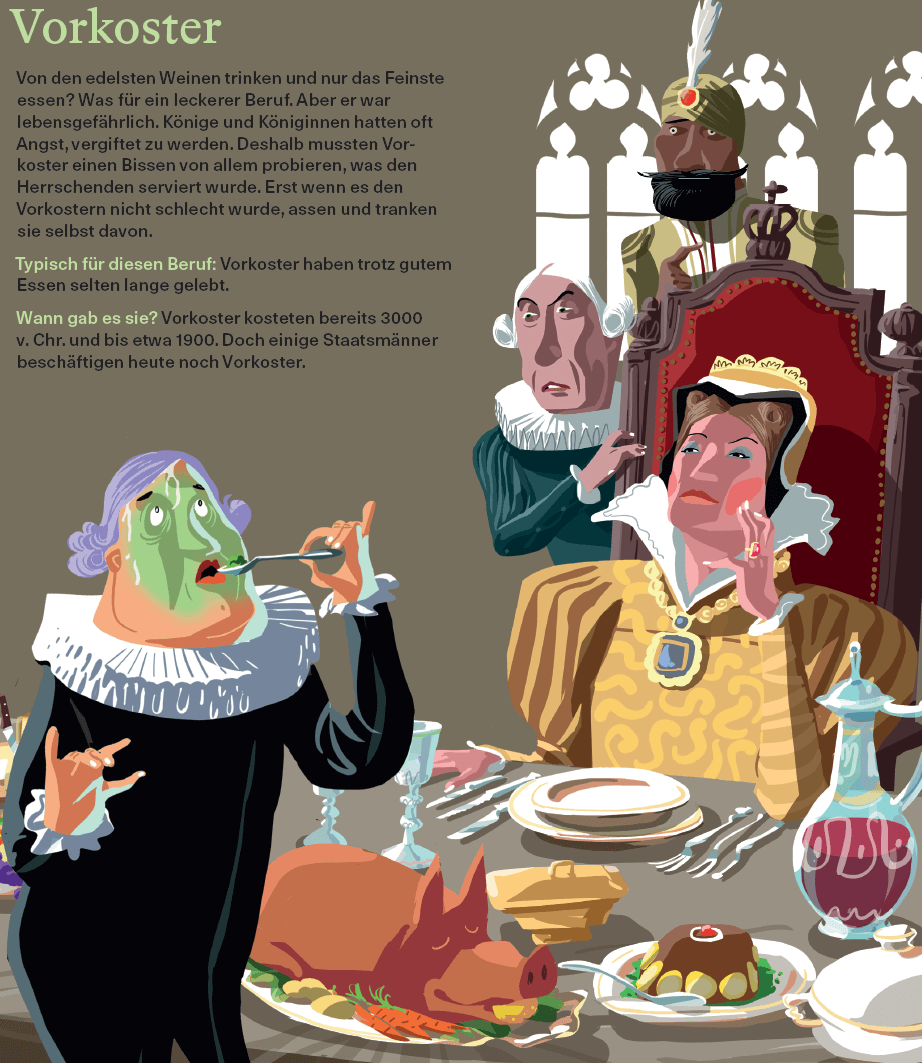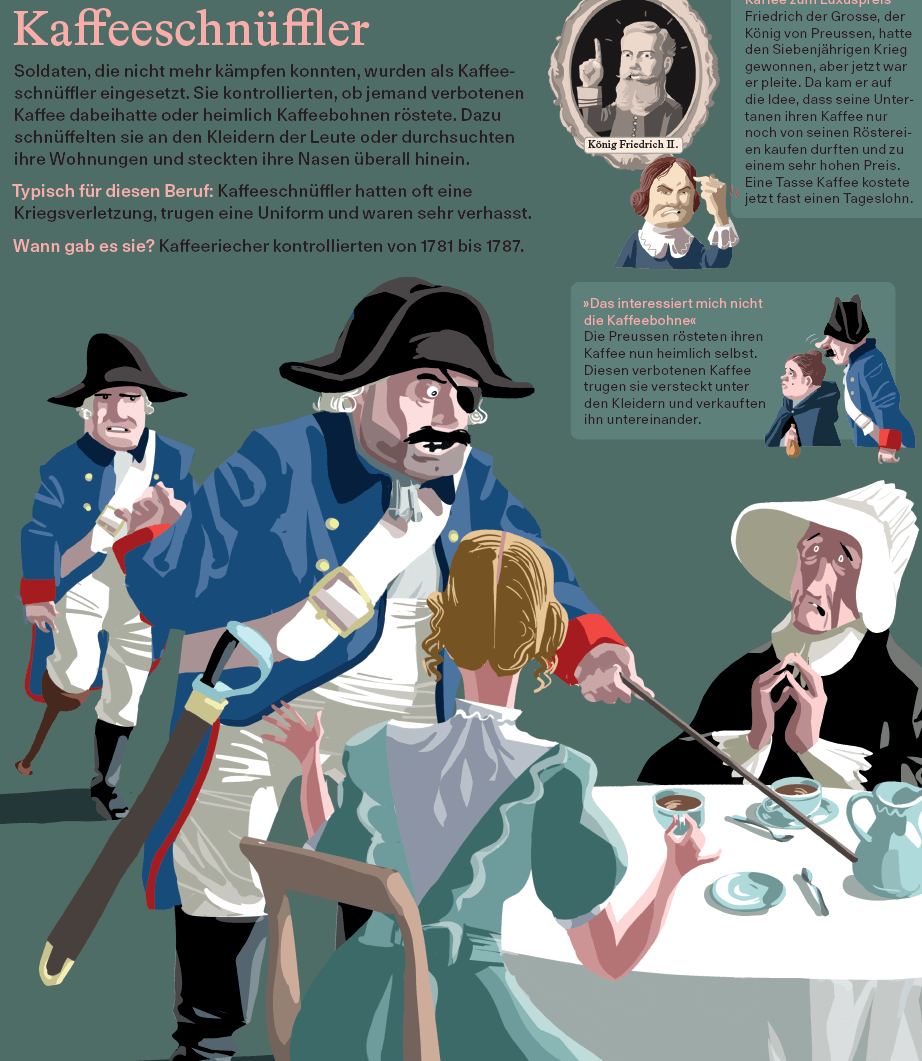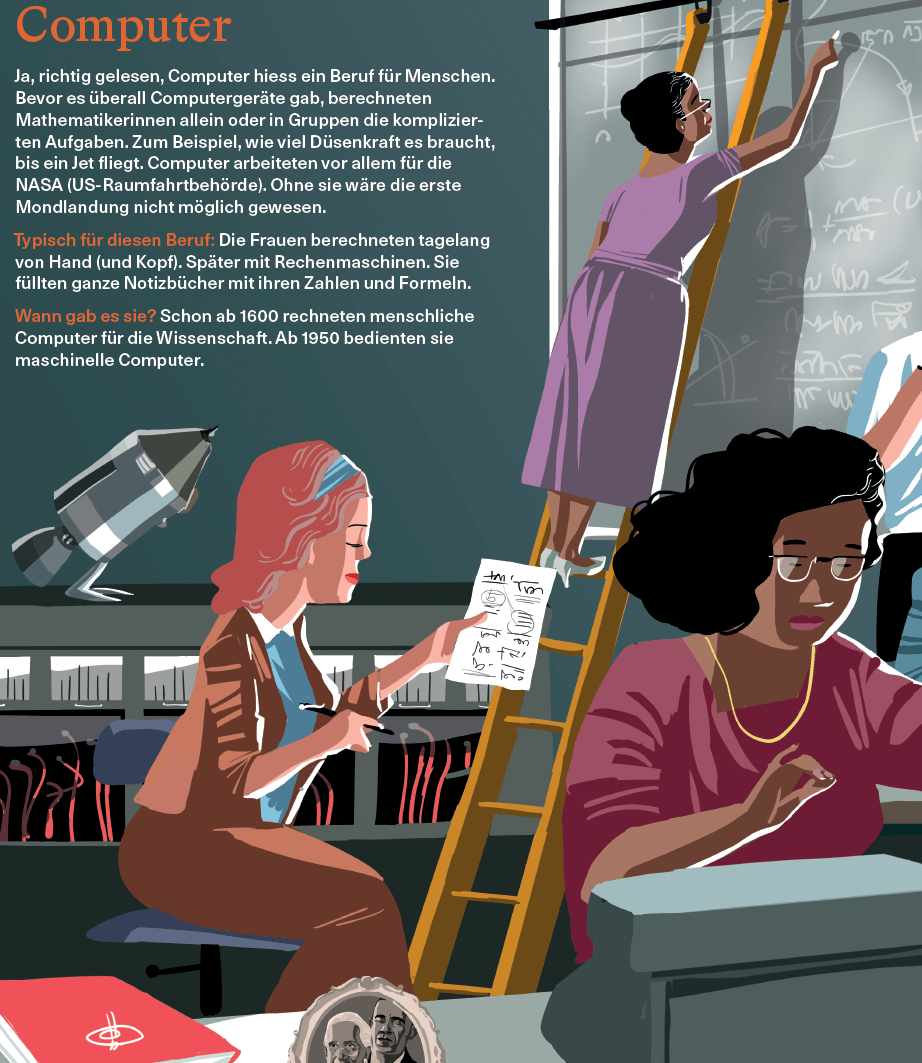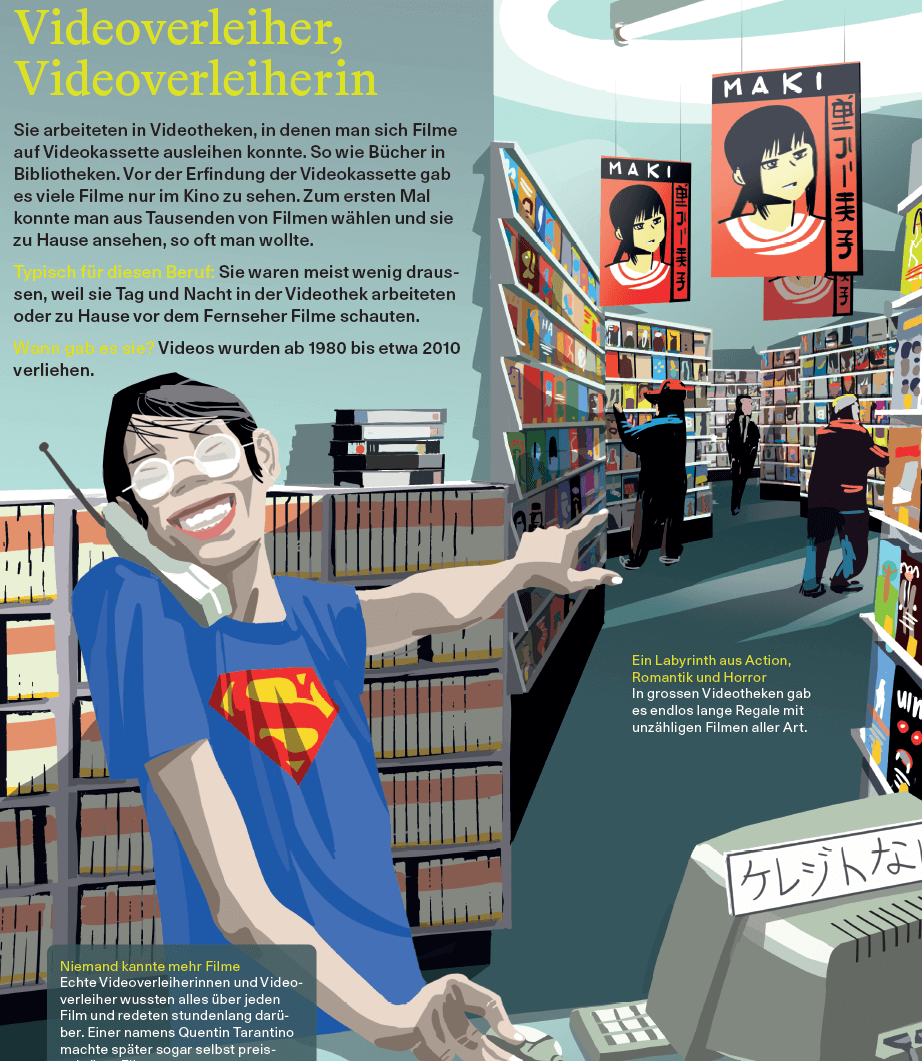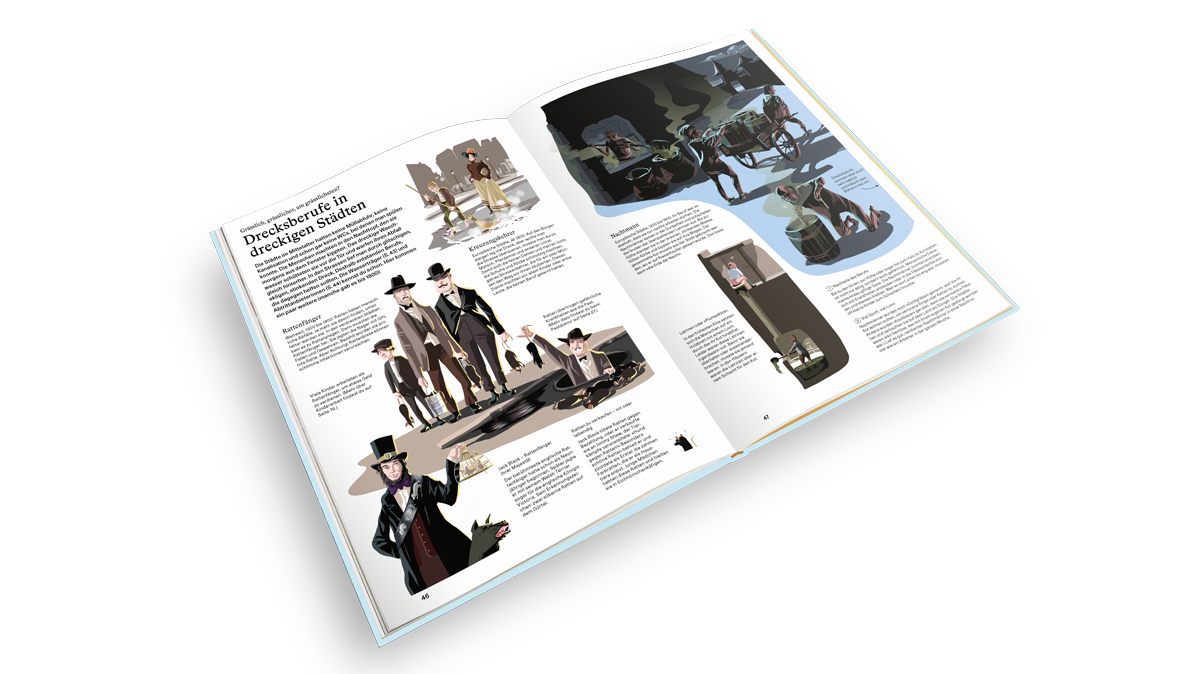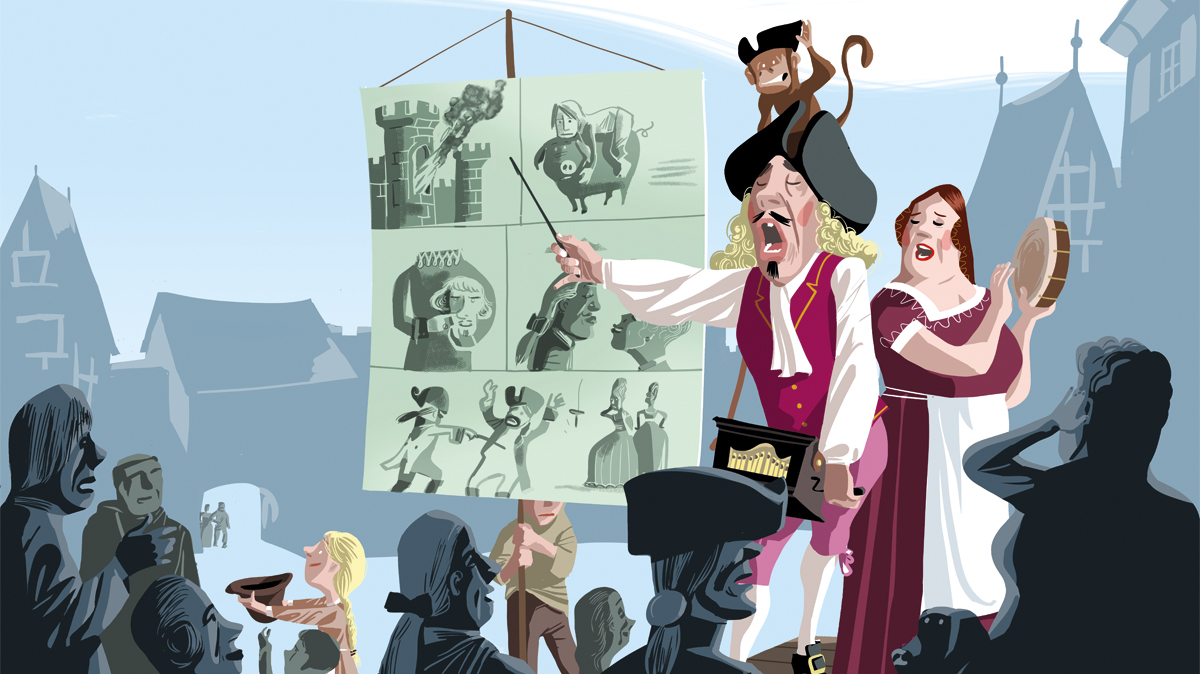 Lichtputzer und Pulveraffen
89 ausgestorbene Berufe und ihre unglaubliche Geschichte
Ausgestorbene Berufe erzählen aus unserer Vergangenheit.
Gladiatoren kämpften für den Applaus. Eissäger schnitten ganze Seen in Stücke. Und in den USA berechneten die »Raketenfrauen« als menschliche Computer den Flug der Raumschiffe – nur mit Stift und Papier.
All diese Berufe gab es wirklich, und dieses Buch erzählt ihre faszinierenden Geschichten aus aller Welt. Einige waren schrecklich, andere wundervoll. Staune über die Kunstfurzer und ihre Zeit, über Flugzeuglauscher und wandelnde WCs, über die rasenden Reiter des Pony-Express und die gemütlichen Schmuckeremiten. Aber Achtung: Hüte dich vor Londons Scharfrichtern und Deutschlands Kaffeeschnüfflern!
- Großformatige ganzseitige Abbildungen

- Ein Geschichtsbuch über die Entwicklung und das Verschwinden von Berufen
- Wie verändert sich die Idee von "Arbeit" im Laufe der Zeit und warum arbeiten wir überhaupt?
- Mehr als 100 verschwundene Berufe aus allen Epochen und aus der ganzen Welt
Der Autor und der Illustrator
Markus Rottmann lebt mit seiner Frau und seiner kleinen Tochter in Zürich und schreibt für Bücher, Zeitschriften, die Bühne und Museen. Er arbeitet mit Fotografen, Regisseurinnen, Illustratoren, Künstlerinnen und seit Kurzem mit einem Zauberer zusammen. Er schreibt eine regelmässige Kolumne über Bergliteratur und hat sogar einen Audioguide zum Friedhof Zürich produziert.
Michael Meister ist ein preisgekrönter Schweizer Illustrator. Seine Arbeiten sind in der New York Times, dem Wall Street Journal, der Washington Post, The Atlantic und vielen anderen Zeitschriften auf der ganzen Welt erschienen. Er hat fünf Bücher illustriert, darunter Swisstory, das mit dem Crystal Kite Award der Society of Children's Book Writers and Illustrators ausgezeichnet wurde. Er lebt mit seiner Familie in der Nähe von Basel.
EMYS Sachbuchpreis August 2023
More Information

| | |
| --- | --- |
| ISBN | 9783907293942 |
| Pages | 88 |
| Dimensions (cm) | 24.5 x 33.5 x 1.4 |
| Weight (g) | 890 |
| Release date | 25.04.2023 |
| Brand | Helvetiq |
| Age | 8+ |
"Es gibt Kinderbücher, die nur Kinder begeistern, und es gibt Kinderbücher, die nur Erwachsene begeistern, aber mit "Lichtputzer und Pulveraffen" haben Markus Rottmann und Illustrator Michael Meister ein Kindersachbuch geschafften, das es schafft, jede Alters Gruppe zu faszinieren."
—Preußische Allgemeine Zeitung
"Meisterhaft! Ein Familienbuch zum Staunen, Schmunzeln und Nachdenken"
—Kinder- und Jugendmedien Bern-Freiburg
"Lichtputzer und Pulveraffen ist nicht nur für Geschichtsinteressierte oder Arbeitswelt-Historiker geeignet, sondern für jeden, der an den Wegen interessiert ist, auf denen unsere Gesellschaft sich entwickelt hat. Dieses Buch ist informativ, faszinierend und gut geschrieben, und es erweckt eine Vielzahl von vergessenen Berufen und ihren unglaublichen Geschichten zum Leben. Eine absolute Empfehlung für alle, die Freude an historischen Einblicken und interessanten Anekdoten haben."
—Magie der Bücher
"Dieses Buch lädt einfach zum Entdecken ein – die Vielfalt der vorgestellten Berufe ist einfach großartig und zeigt wieder einmal wie spannend das Leben ist. Es macht Spaß darin zu lesen und sich in frühere Zeiten und andere Länder entführen zu lassen. Dieses Kinderbuch ist eines von der Sorte, in das sich Erwachsene genauso wie Kinder verlieben und das man immer wieder zur Hand nimmt. Ich kann es euch sehr empfehlen!"
—Stephis Bücher Blog