Kevin Luhn, Dominik Wendland
Cooperate to cut the nets!
Save the sea animals from the fishing nets. The emptier the nets are at the end of the game, the better your score!
Delivery date?
Shipping cost?
Delivery via Planzer carrier.
Shipping fees 5CHF.
Free delivery over 35CHF.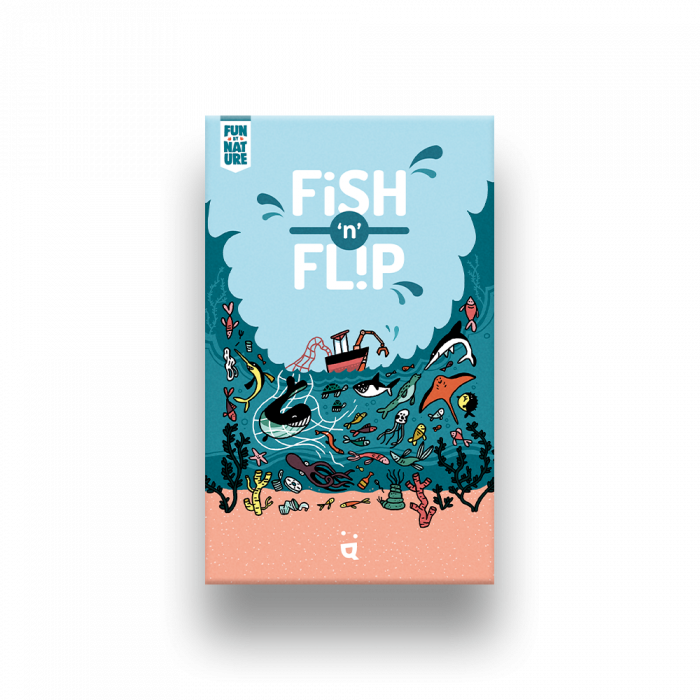 Fish'n Flip
Cooperate to cut the nets!

Unfortunately, the fishing nets that scour the ocean floor don't just catch fish. In their wake, they also capture many species of marine mammals that don't belong on our plates!
In Fish'n Flip, play together to free as many animals as possible before the end of the game.
With its original mechanics that will undoubtedly remind you of your Tetris games, Fish'n Flip is the perfect game to bring young and old together. Discuss together, and optimise the use of your action cards to create cascading movements and free the animals! Each player can only use their special ability on their turn, but beware: to achieve a clean sweep, you'll need to move together!
Aim of the game
Many animals are caught in the fishing nets: cooperate and program your actions to free them. Combine the powers of your animals cleverly to achieve the best combos, but watch out for waste! The emptier the nets are at the end of the game, the more points you will earn.
Game content
120 cards including 79 marine animals (10 whale, swordfish, octopus, turtle, dolphin, jellyfish and ray cards, and 9 shark cards), 1 boat card, 20 action cards, 12 waste cards (6 plastic, 3 metal, 3 oil), 8 power cards (1 per animal).
- Two game modes: cooperative or competitive
- Simple but thoughtful mechanics
- An information booklet on overfishing and ocean protection
- An eco-responsible production: innovative materials, 0 plastic, only ecological components (cardboard, paper, wood)
- A new collection in partnership with the magazine La Salamandre.
In partnership with LA SALAMANDRE
Downloads
More Information

| | |
| --- | --- |
| EAN | 7640139532817 |
| Players | 1-4 |
| Dimensions | 10 x 15.7 x 4.5 cm |
| Editor | Helvetiq |
| Age | 7+ |
| Duration | 20' |
| Collection | Fun by Nature |